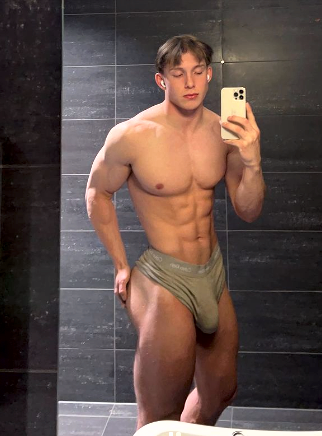 Victor Edie is a Norwegian deity in the class of Thoresque . He has a ripping monstrously huge body cascading with impressive muscles. Although we have not located videos of him or sex-tapes the imagination is that he has a huge cock as well from the big bulge he sports in his underwear selfies. This first photo is of his lickable
chest
with beautiful and surely tatsy erect nipples. Further investigation located what is alleged to be his
cock
, big thick and beautiful. It looks huge however that's secondary to his body and beauty. Victor is a personal trainer in his country and has a website for those interested. He has an large social media presence on the Internet, Victor's
Instagram
,
Victor' s website
,
OnlyFans
,
Twitter
,
SnapChat
. If you are so inclined visit him and say hello.
You must be a registered member to view videos on our website.
Please contact us via our
Help Desk
, if this or any video link is not loading. Thank You!
BCNSFW
© is a private member's only digital content archives. All visual content is taken from public forms. Copyright remains that of owner in likenesses. Enjoy the view and stay tuned.